The CRC group, founded in 1993, is made up of a series of companies that provide international transport, logistics, warehousing and distribution services, as well as customs services and consultancy and advice in foreign trade.
In CRC we are experts in the management of all types of international transport by any means: maritime, land or maritime transport. We have been in the sector for over 25 years as an international transport company in Barcelona.
As freight forwarders we currently cover the entire European territory through correspondents who ensure rapid movement of goods from any point of the EC or the rest of European countries such as EFTA (Switzerland, Norway and Iceland). We also have special services with the Canary Islands and the principalities of Andorra and San Marino.
Our organization has extensive facilities with docks for loading and unloading, offices and own customs in the same premises.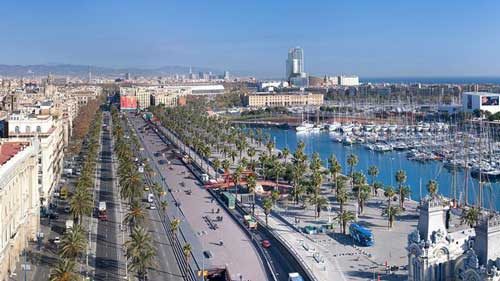 Our central offices are located in the port of Barcelona, ​​15 km from the airport and 100 m from the main customs office.
CRC is a company with highly qualified personnel. We have a human team formed with a spirit of service, mostly young professionals motivated and accredited with ATEIA, FETEIA, IATA and certified with the ISO 9001: 2015 standards.
We are an international transport company with extensive experience in the field of foreign trade. Your company needs to trust collaborators who do not put their investment at risk. 80% of the staff has been working in the sector for more than 25 years.
We try every day to improve our services for the benefit of our customers. We offer a personal and direct relationship, guaranteeing the best advice, an effective representation before the Customs and of course, security and speed in your shipments.
"Our activity is supported by the experience of more than 25 years in the transport and international trade sector"
We perform 24 × 7 tracking of all operations until their completion, resolving all possible incidents and claims and providing timely and direct information to our customers. We are authorized by the General Directorate of Customs to electronically dispatch EDI ( Electronic Data Interchange ) 24 hours a day, 365 days a year.
CRC is one of the first authorized OAS Economic Operators in Spain. CRC is a company created with a vocation for service, as indicated by our quality policy .
Accrediting documentation
Authorized Economic Operator OAS since 2010 by the European regulation AEOC.

Certificate of the Ministry of Industry and Energy.

National Quality Plan.

European Internal Market.

Member of FIATA.

International Federation of Freight Forwaders Associations.

Certificate of Professional Training for the exercise of Freight Forwarder, Warehouse, Distributed and Carrier.

Member of ATEIA.

Member of IATA.